unikalne i sprawdzone wypracowania
Children and their dreams: description of a picture - Dzieci i ich marzenia: opis obrazka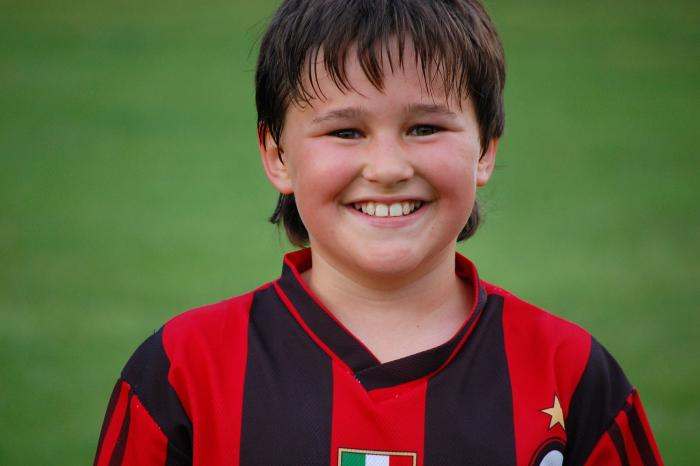 Exemplary answer:
In the picture I can see a boy, probably in primary school age, standing on a football field. His short brown hair show traces of sweat and his eyes are brown. He looks quite tired, but also happy. He is wearing a sport t-shirt, then it is easy to assume that he was participating in some kind of a game; it could have even been a tournament. That would explain him being tired, since he probably was playing on top of his abilities.
Smile on the boy's face suggests that he is satisfied with is performance. He could have scored some points that let his team win. On his shirt I can also see a part of the flag of Italy. It could mean that he is only a fan of an Italian team or that he is an Italian himself. Italians are known for their love for football, so it can be assumed that the game the boy was playing was football. Maybe he is a member of a junior league.
If he did outstandingly well in the match he just played, maybe some talent scout noticed him. If so, in future he may become a professional footballer, which is a dream of every young boy. On the other hand, he may have just played for fun and he is happy because he played with his friend. Whatever is true, I am sure that he enjoyed it.
Exemplary questions:
What/who can you see in the photo? How can this person feel? What kind of a situation can be presented here? (What happened/is happening?) What can he be thinking about? What kind of a story may be connected to it?
Tłumaczenie
Przykładowa odpowiedź:
Na obrazku widzę chłopca, prawdopodobnie w wieku podstawówkowym, stojącego na boisku do piłki nożnej. Jego krótkie, brązowe włosy noszą ślady potu, a jego oczy są brązowe. Wygląda na zmęczonego, ale też na szczęśliwego. Ma na sobie sportową koszulkę, dlatego łatwo przypuszczać, że grał jakiś mecz; może nawet turniej. To by tłumaczyło jego zmęczenie, gdyż pewnie grał najlepiej jak umiał.

Uśmiech na twarzy chłopca sugeruje, że jest zadowolony ze swojego występu. Może zdobył dla drużyny punkty, które pozwoliły im wygrać. Na jego koszulce widzę też część flagi Włoch. Może to znaczyć, że jest fanem włoskiej drużyny lub sam jest Włochem. Włosi znani się z miłości do futbolu, więc można przypuszczać, że chłopak grał właśnie w piłkę nożną. Może jest członkiem młodzieżowej drużyny ligowej.

Jeśli sprawił się [w meczu] olśniewająco dobrze, jakiś łowca talentów mógł go zauważyć. W takim wypadku może w przyszłości zostać profesjonalnym piłkarzem, co jest marzeniem każdego chłopca. Z drugiej jednak strony, mógł zwyczajnie grać tylko dla zabawy i jest szczęśliwy, bo grał z przyjaciółmi. Którakolwiek wersja jest prawdziwa, jestem pewna, że chłopiec dobrze się bawił.
Przykładowe pytania:
Co/kogo widzisz na obrazku? Jak może czuć się ta osoba? Jaka sytuacja może być tutaj zaprezentowana? (Co się stało/dzieje?) O czy może myśleć? Jaka historia może się z nim wiązać?
Podobne wypracowania