unikalne i sprawdzone wypracowania
Different kinds of friendship: compare and contrast. Description of a picture - Różne rodzaje przyjaźni: zestaw i porównaj. Opis obrazka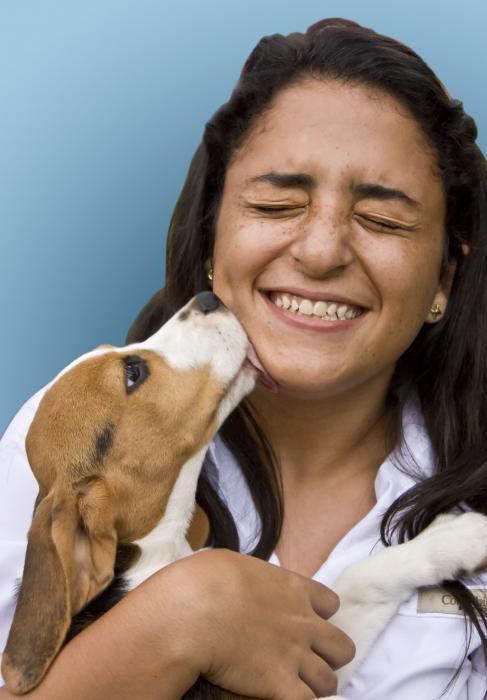 Exemplary answer:
In the first picture I can see three girls, school age, close together. They all have dark blond, long hair. The first one on the left has a greenish floral blouse on and has her arm round the second girl. The middle one is wearing a black jumper and has her arms round the other two. The one on the right has a pink blouse on and has her arm around the second one as well. They must be close friends. They're sitting somewhere outside having a good time together.
In the second picture I can see a young woman. She has dark hair, freckles on her face, closed eyes and she's smiling. She's wearing small earrings. She's wearing a white shirt too. Also, she's holding a dog. The animal is white and brown and is licking the girl on the face. She looks very happy. The dog must be her good, old friend. She's surely having a good time. She's probably living on her own and the dog is her companion.
Both pictures show friendship and closeness. Both illustrate a sense of a relationship with a friend. They both demonstrate only positive emotions and good things in life that fill it and give our lives the real meaning. The difference is that in one picture a bond between people is shown and in the other, the bond between a person and an animal.
To me the closer situation is the first one. I prefer people to animals as I can talk to them about my problems and share my joy. I prefer spending my time with people as it suits my beliefs. I believe that even though animals are blindly faithful to people, friends are the ones who can help us most. They also have a wide variety of possibilities to support us.
Exemplary instruction:
Describe those pictures briefly, compare and contrast them (differences/ similarities) and decide which of the presented situations is closer to your beliefs and preferences (opinion).
Tłumaczenie
Przykładowa odpowiedź:
Na pierwszym obrazku widzę trzy dziewczynki, w wieku szkolnym, blisko siebie. Wszystkie mają długie ciemne blond włosy. Pierwsza po lewej ma zielonkawą bluzkę w kwiatowe wzory i obejmuje ramieniem drugą dziewczynę. Ta pośrodku ma na sobie czarny sweter i obejmuje ramionami pozostałe dwie. Ta po prawej ma różową bluzę i obejmuje drugą koleżankę. Muszą być bliskimi przyjaciółmi. Siedzą gdzieś na zewnątrz i dobrze się bawią.

Na drugim obrazku widzę młodą kobietę. Ma ciemne włosy, piegi na twarzy, zamknięte oczy i się uśmiecha. Ma w uszach małe kolczyki. Ma na sobie też białą koszulę. Trzyma także w ramionach psa. Zwierzę jest białobrązowe i liże dziewczynę po twarzy. Wygląda na bardzo szczęśliwą. Pies musi być jej dobrym, starym przyjacielem. Na pewno dziewczyna się dobrze bawi. Prawdopodobnie mieszka sama i pies jest jej jedynym kompanem.

Oba obrazki ukazują przyjaźń i bliskość. Oba ilustrują poczucie związku z przyjacielem. Oba demonstrują jedynie pozytywne emocje i dobre rzeczy w życiu, które je wypełniają i nadają mu prawdziwy sens. Różnicę między obrazkami stanowi fakt, że na jednym obrazku pokazano więź międzyludzką, a na drugim między człowiekiem a zwierzęciu.

Dla mnie bliższą sytuacją jest pierwsza. Wolę ludzi od zwierząt, bo mogę z nimi porozmawiać o moich problemach i dzielić się szczęściem. Wolę spędzać mój czas z ludźmi, bo to pasuje do moich przekonań. Wierzę, że mimo że zwierzęta są ślepo oddane ludziom, to jednak przyjaciele są tymi, którzy mogą nam najwięcej pomóc. Oni mają też największy wybór możliwości wspierania nas.
Przykładowe polecenie:
Pokrótce opisz oba obrazki (różnice/ podobieństwa), porównaj je i zestaw, a następnie zadecyduj, która z zaprezentowanych sytuacji jest bliższa twoim przekonaniom, preferencjom (opinia).
Podobne wypracowania