unikalne i sprawdzone wypracowania
Crime and investigation: description of a picture - Zbrodnia i śledztwo: opis obrazka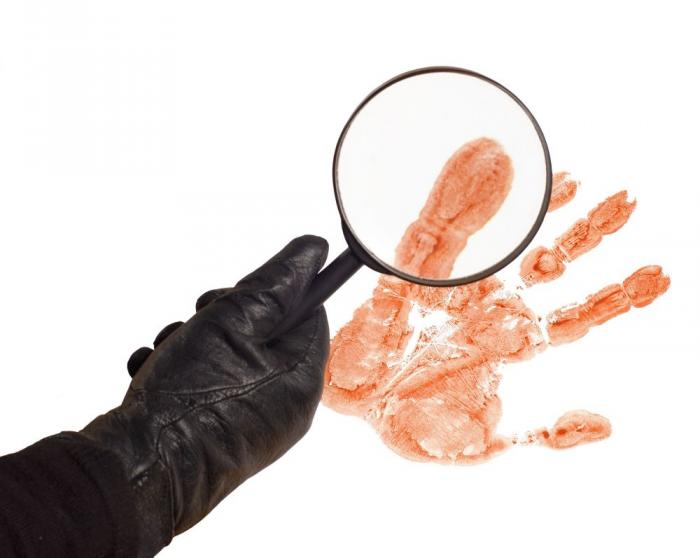 Exemplary answer:
In the picture, I can see a bloody imprint of a hand and a magnifying glass. The person holding it pays attention to the small finger of the hand. The picture may illustrate a murder. It can be related to the problem of crime.
The magnifying glass may stand for a detective. It's only a symbol, because these days investigators use much more modern and complex machinery to gather the evidence. He is probably looking for some kind of evidence that will help him to find the assassin. He's collecting fingerprints, footprints, lost hair and anything else that can prove the suspect's guilty.
The victim must have been trying to run and left their blood all over the crime scene. The police are now investigating the case. The culprit must now feel insecure and hounded. The police will surely hunt them down and they will remain in a protective custody and, surely, later on in prison.
Exemplary questions:
What/who can you see in the picture? What kind of a situation may be presented here? What kind of a problem may be brought up here? What can this picture stand for? What kind of a story may be connected to it?
Tłumaczenie
Przykładowa odpowiedź:
Na zdjęciu widzę krwawy odcisk dłoni i szkło powiększające. Osoba trzymająca je zwraca uwagę na mały palec u ręki. Obrazek może ilustrować morderstwo. Może być on związany z problemem przestępczości.

Szkło powiększające może symbolizować detektywa. To tylko symbol, bo w tych dniach śledczy używają znacznie bardziej nowoczesne i skomplikowane maszyny do zbierania dowodów. Człowiek ten pewnie szuka jakichś dowodów, które pomogą mu odnaleźć zabójcę. Zbiera odciski palców, ślady stóp, włosów i wszystko, co może wskazać na winę podejrzanego.

Ofiara musiała próbować uciekać i zostawiła swoją krew wszędzie miejscu zbrodni. Policja bada obecnie sprawę. Sprawca musi teraz czuć się niepewny i zaszczuty. Policja z pewnością wytropi go i umieści w areszcie, a później – z pewnością – w więzieniu.
Przykładowe pytania:
Co widzisz na obrazku? Jaka sytuacja może być tutaj zaprezentowana? Co może symbolizować ten obrazek? Jaka może wiązać się z nim historia?
Podobne wypracowania