unikalne i sprawdzone wypracowania
Job and profession: a cook. Description of a picture - Praca i zawód: kucharz. Opis obrazka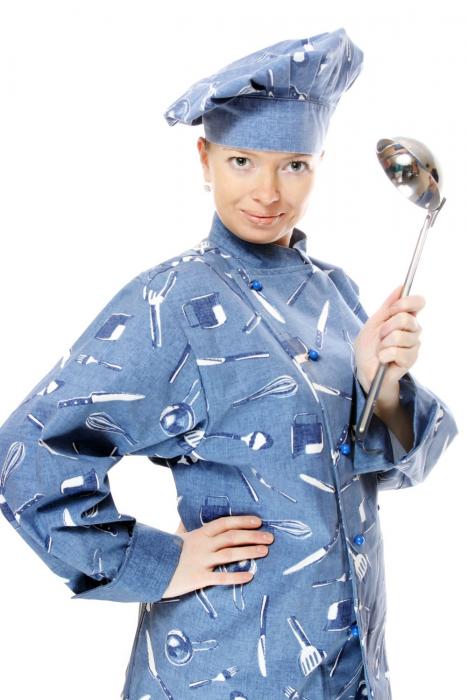 Exemplary answer:
In the picture, I can see a woman in a blue apron. She's holding a ladle in her left hand. Her apron has a kitchen-related pattern on. He also has a fancy cook's cap on her head.
She must be a cook. She looks happy and excited about what she's going to do. I assume she likes her job. She might have had numerous reasons for choosing this career. She might have been taught cooking by her beloved grandmother who was a cook too. She may have a certain sentiment for several dishes and every time she prepares them, she thinks about her grandma.
She certainly finds cooking stimulating and rewarding. She might like eating as well, but who doesn't 'try' the food when they're cooking?
Her job is everything for her, that's her hobby and way of earning a living.
Exemplary questions:
What/who can you see in the picture? What kind of a job can be presented here? How can this person feel? Why did she choose this job?
Tłumaczenie
Przykładowa odpowiedź:
Na zdjęciu widzę kobietę w niebieskim fartuchu. Trzyma chochlę w lewej ręce. Jej fartuch ma kuchenny wzór. Ma też fajną kucharską czapkę na głowie.

Musi być kucharzem. Wygląda szczęśliwą i podekscytowaną tym, co zrobi. Zakładam, że lubi swoją pracę. Może istnieć wiele przyczyn wyboru tego właśnie zawodu. Może gotowania uczyła ją jej ukochana babcia, która też była kucharką. Może mieć pewien sentyment do wielu potraw i za każdym razem, gdy je przygotowuje, myśli o swojej babci.

Z pewnością twierdzi, że gotowanie jest stymulujące i satysfakcjonujące. Może lubić też dobrze zjeść, ale kto nie "próbuje" jedzenia w trakcie gotowania?

Jej prace jest dla niej wszystkim, to jej hobby i sposób zarabiania na życie.
Przykładowe pytania:
Co/kogo widzisz na obrazku? Jaki zawód może być tutaj zaprezentowany? Jak może czuć się ta osoba? Dlaczego zdecydowała się wybrać ten zawód?
Podobne wypracowania