unikalne i sprawdzone wypracowania
Surprises, gifts, rewards: description of a picture - Niespodzianki, prezenty, nagrody: opis zdjęcia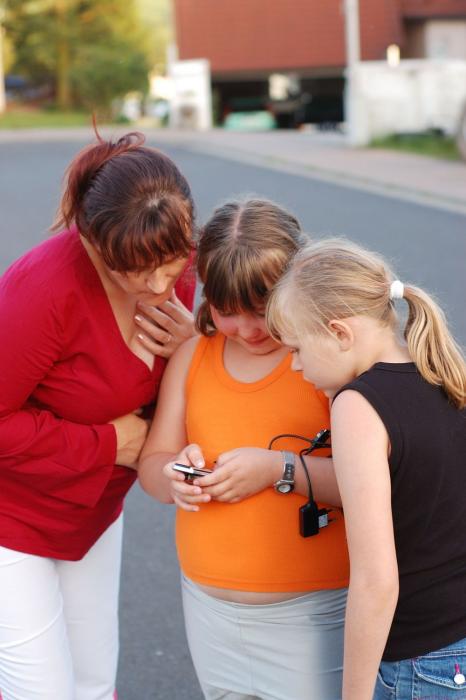 Exemplary questions:
What/who can you see in the picture? What kinds of feelings may accompany those people? What kind of a situation may be presented here? (What happened/is happening?) What kind if a story may be connected to it?
Exemplary answer:
In the picture, I can see a woman in her mid-thirties and two girls, aged about 12. They're standing outside, probably on a pavement. The woman is wearing a red v-necked blouse and white trousers. The girl in the middle is chubby. She has an orange top and a white skirt on. She also has a mobile phone and a charger. On her left wrist, there is a silver watch.
The other girl is thin. She has her blond hair tied back. She's wearing a black top and jeans. They all are looking at the mobile phone. The girl in orange blouse might have received an important message and she's now sharing it with her companions. The lady looks surprised and so does the girl in the back. It could also be her brand new mobile, the first she ever had. She's checking it out, and so are the other two.
They look attracted and intrigued by the device. The girl could have got it for her birthday. It can also be a reward for great grades at school. She must have been trying hard to get it. She must have put some effort in it. She's now very happy about it.
Tłumaczenie
Przykładowe pytania:
Co/kogo widzisz na obrazku? Jakie uczucia towarzyszą tym osobom? Jaka sytuacja może być tutaj zaprezentowana? (Co się stało/dzieje?) Jaka historia może się z nim wiązać?
Przykładowa odpowiedź:
Na zdjęciu, widzę kobietę około trzydziestki i dwie dziewczynki w wieku około 12 lat. Stoją na zewnątrz, prawdopodobnie na chodniku. Kobieta jest ubrana w czerwoną bluzkę w serek i białe spodnie. Dziewczyna w środku jest pulchna. Ma pomarańczowy top i białą spódnicę na sobie. Ma też telefon komórkowy i ładowarkę. Na jej lewym nadgarstku jest srebrny zegarek.

Druga dziewczyna jest szczupła. Ma blond włosy związane z tyłu. Ma na sobie czarny top i dżinsy. Wszyscy patrzą na telefon komórkowy. Dziewczyna w pomarańczowej bluzce mogła otrzymać ważną wiadomość i teraz dzieli się nią z towarzyszkami. Pani wygląda na zaskoczoną, tak jak dziewczyna z tyłu. Może to być również jej nowy telefon, pierwszy w życiu. Ogląda go i dwie pozostałe osoby też.

Wyglądają na zainteresowane i zaintrygowane urządzeniem. Dziewczynka pewnie dostała go na urodziny. Może również być nagrodą za świetne oceny w szkole. Musiała się postarać, by go zdobyć. Musiała włożyć w to trochę wysiłku. Jest teraz bardzo zadowolona.
Podobne wypracowania