unikalne i sprawdzone wypracowania
Misbehaviour: description of a picture - Złe zachowanie: opis obrazka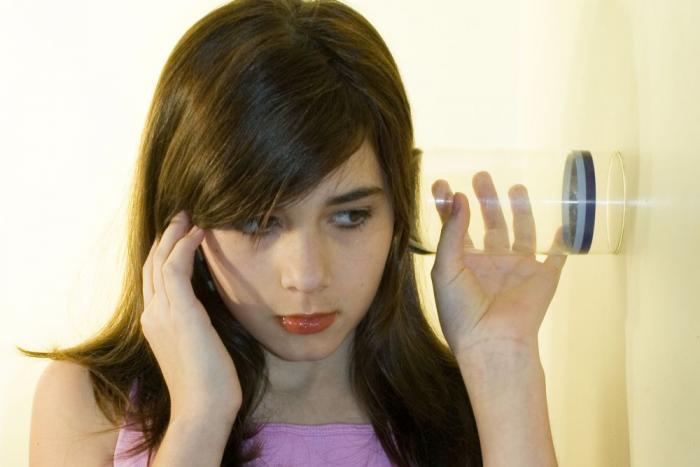 Exemplary questions:
What/who can you see in the picture? What kind of a situation may be presented here? (What happened/is happening?) What is the girl doing? What kinds of feelings accompany her?
Exemplary answer:
In the picture, I can see a teenage girl eavesdropping. She has long dark hair and dark eyes. She put some make-up on her face. She's wearing a pink top. She has a glass, which she pressed onto the wall. The bottom of the glass is against her ear allowing her to hear the conversation on the other side of the wall more clearly.
She looks worried and saddened. She might have been misbehaving and her parents told her to go to her room but she wants to know what they're talking about so she chose to use a glass. She might also be a girl with bad habits, she's being too curious about things and this is why she's eavesdropping. She might be feeling a little guilty about what she's doing.
She certainly has to be extra cautious in case someone walks into the room. She might want to learn what is her parents' decision on the matter that is important to her.
What she's doing is certainly nosey and morally wrong.
Tłumaczenie
Przykładowe pytania:
Co/kogo widzisz na obrazku? Jaka sytuacja może być tutaj zaprezentowana? (Co się stało/dzieje?) Co robi dziewczyna? Jakie uczucia jej towarzyszą?
Przykładowa odpowiedź:
Na zdjęciu widzę nastoletnią dziewczynę, która podsłuchuje. Ma długie ciemne włosy i ciemne oczy. Nałożyła na twarz trochę makijażu. Jest ubrana w różowy top. Ma szklankę, którą dociska do ściany. Jej dno przyłożyła do ucha, co pozwala jej lepiej słyszeć rozmowy po drugiej stronie ściany.

Wygląda na zmartwioną i zasmuconą. Mogła zachowywać się niewłaściwie i jej rodzice kazali jej iść do swojego pokoju, ale ona chce wiedzieć, co oni mówią, dlatego wybrała szklankę. Może być także dziewczyną ze złymi nawykami, zbyt ciekawą różnych rzeczy i dlatego podsłuchuje. Może czuć się trochę winna z powodu tego, co robi.

Na pewno musi być bardzo ostrożna, na wypadek gdyby ktoś wszedł do pokoju. Może chcieć dowiedzieć się, jaka jest decyzja jej rodziców w sprawie, która jest dla niej ważna.

To, co robi, jest z pewnością wścibskie i moralnie złe.
Podobne wypracowania