unikalne i sprawdzone wypracowania
Crimes and mental illnesses: description of a picture - Przestępstwa i choroby psychiczne: opis obrazka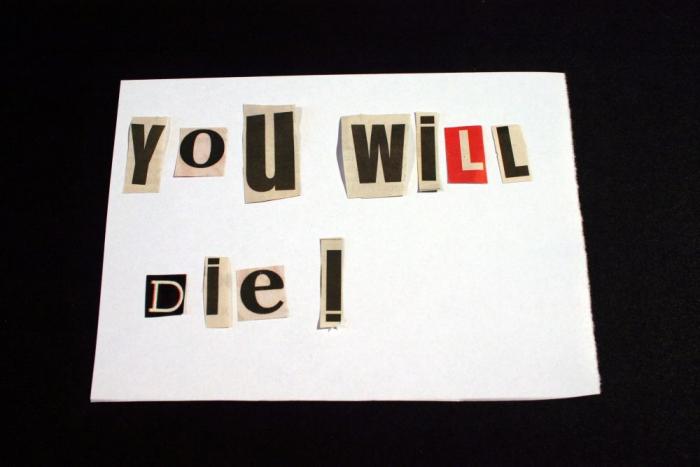 Exemplary questions:
What/who can you see in the picture? What kind of a situation may be presented here? What kind of a problem may be brought up here? What can this picture stand for? What kind if a story may be connected to it?
Exemplary answer:
In the picture, I can see a poison-pen letter. There are letters cut out of a newspaper and stuck to a sheet of paper. They say: 'You will die'. It surely is a threatening message.
This kind of a messages can be received by popular people, like singers, actors, politicians and so on. They can be sent by psycho fans of those people. I'm sure receiving something like that makes the person reading it very anxious and frightened. It's commonly assumed that the senders are simply jealous about certain aspects of the recipient's life. They can also be mentally damaged; in fact, those should be treated by a psychiatrist.
To cover all the basis, those letters may be sent by the receiver themselves. It can be a way of attracting people's attention. Looking from the creator's point of view, manufacturing such a letter requires a bit of hard work. The whole point usually is just threatening, making the receiver feel endangered or psychologically hurt.
The picture illustrates the problem of minor crime and mental illness.
Tłumaczenie
Przykładowe pytania:
Co widzisz na obrazku? Jaka sytuacja może być tutaj zaprezentowana? Jaki problem może być tu poruszany? Co może symbolizować ten obrazek? Jaka może wiązać się z nim historia?
Przykładowa odpowiedź:
Na zdjęciu widzę list anonimowy. Litery są wycięte z gazety i przyklejone do kartki papieru. Mówią: "Umrzesz". To na pewno jest groźna wiadomość.

Takie wiadomości mogą być odbierane przez popularne osoby, takie jak piosenkarze, aktorzy, politycy i tak dalej. Mogą być one wysyłane przez psycho-fanów tych ludzi. Jestem pewna, że otrzymanie czegoś takiego sprawia, że osoba czytająca to staje się bardzo niespokojna i przestraszona. Powszechnie przyjmuje się, że nadawcy są po prostu zazdrośni o niektóre aspekty życia odbiorcy. Mogą być również chorzy psychicznie; w rzeczywistości ci powinni być leczeni przez psychiatrę.

Aby spojrzeć na problem ze wszystkich stron, trzeba powiedzieć, iż te listy mogą być wysyłane przez samego odbiorcę do siebie samego. Może to stanowić sposób na przyciągnięcie uwagi ludzi. Patrząc z punktu widzenia twórcy, produkcja takiego pisma wymaga nieco ciężkiej pracy. Cały pomysł to zazwyczaj tylko zastraszanie – by odbiorca czuł się zagrożony lub psychicznie skrzywdzony.

Obrazek ilustruje problem drobnych przestępstw i chorób psychicznych.
Podobne wypracowania