unikalne i sprawdzone wypracowania
Job and profession: a musician. Description of a picture - Praca i zawód: muzyk. Opis obrazka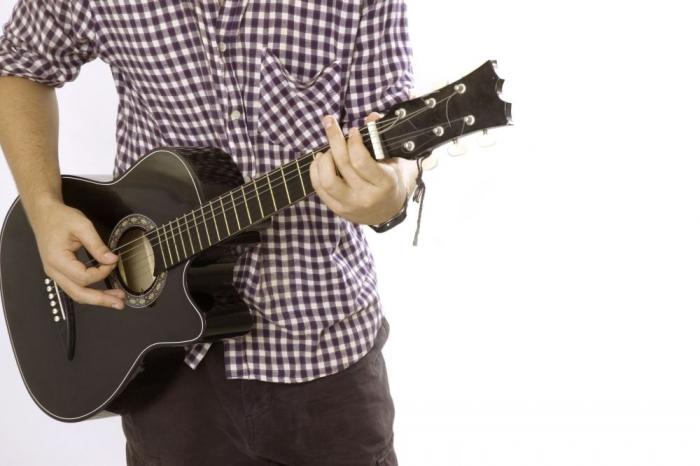 Exemplary questions:
What/who can you see in the picture? What kind of a job can be presented here? How can this person feel? Why did he choose this job?
Exemplary answer:
In the picture, I can see a man playing guitar. The instrument is a big and black acoustic guitar. The player has a chequered shirt and jeans on. He's in the middle of a song.
I assume he's a professional guitarist. He may be a member of a band. Being a musician is a matter of vocation. Also, one has to be able to hear all the subtle differences between the certain notes. Many boys dream of becoming a rock star when they're young. Nevertheless, later on, they learn that it's not that easy, there are many rivals and they don't play nice.
The reasons this man had for becoming a musician may be numerous. However, I believe that the most important one was his love for music. He must have some talent and that, added to hard working, resulted in fulfilling his dream.
He's doing what he enjoys and he gets paid for it! That's one of the best things one can achieve in life. The man is surely happy and has a sense of accomplishment.
Tłumaczenie
Przykładowe pytania:
Co/kogo widzisz na obrazku? Jaki zawód może być tutaj zaprezentowany? Jak może czuć się ta osoba? Dlaczego zdecydowała się wybrać ten zawód?
Przykładowa odpowiedź:
Na zdjęciu widzę człowieka grającego na gitarze. Instrument to duża, czarna gitara akustyczna. Gracz ma koszulę w kratę i dżinsy. Jest w środku utworu.

Zakładam, że jest on profesjonalnym gitarzystą. Może być członkiem zespołu. Bycie muzykiem to kwestia powołania. Ponadto, trzeba być w stanie usłyszeć wszystkie subtelne różnice między niektórymi dźwiękami. Wielu chłopców marzy o zostaniu gwiazdą rocka, gdy są młodzi. Niemniej jednak później dowiadują się, że to nie jest takie proste, jest wielu rywali i "nie grają ładnie".

Powodów, dla których ten człowiek został muzykiem, może być mnóstwo. Uważam jednak, że najważniejszy to jego miłość do muzyki. Musi mieć trochę talentu, a jeśli dodać do to tego ciężką pracę, to mamy w wyniku spełnienie marzeń.

Robi on to, co lubi, i jeszcze zarabia na tym! To jedna z najlepszych rzeczy, jakie można osiągnąć w życiu. Ten człowiek jest na pewno szczęśliwy i ma poczucie spełnienia.
Podobne wypracowania