unikalne i sprawdzone wypracowania
Union and solidarity: description of a picture - Zjednoczenie i solidarność: opis obrazka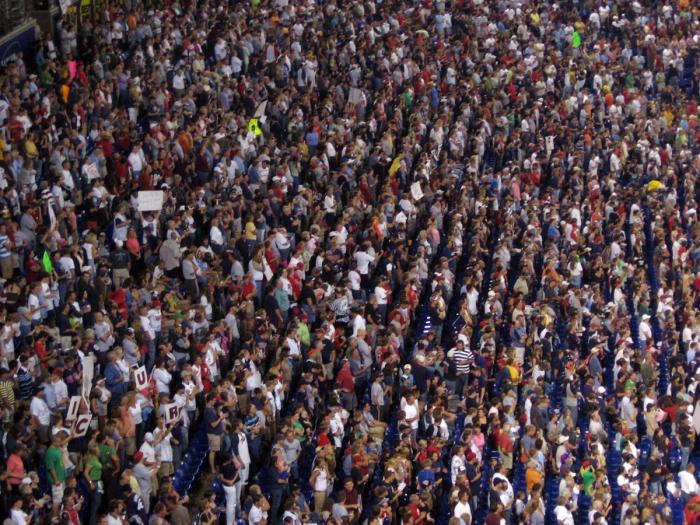 Exemplary questions:
What/who can you see in the picture? What kind of a situation may be presented here? (What happened/is happening?) What occasion may this be?
Exemplary answer:
In the picture, I can see a huge crowd at some kind of a sports arena. Some of the spectators have self-made posters with them. In my opinion, they have come here to watch some kind of a sports event. This could be a very special occasion – a tournament or a championship. Those people have come to express their support for the team participating in the contest, or their national team.
They're all surely very excited, as this kind of an event doesn't happen very often. They seem to be highly involved in what's happening on the field. This could be a football or baseball championship. Those disciplines are very popular and thus many people come to the games. The spectators have come to cheer their national team on.
Such events are very important, as during them the people are outstandingly united and forget the reasons to argue with other. The sense of nationality and patriotism is regained then. Supporting the national team is a matter of a great importance to most people, as there is finally no division between them.
The whole thing is also a serious bonus for the contestants. Hearing thousands of people shouting one's name gives them a huge boost in self-confidence and makes them want to perform at one hundred percent of their abilities.
Tłumaczenie
Przykładowe pytania:
Co/kogo widzisz na obrazku? Jaka sytuacja może być tutaj zaprezentowana? (Co się stało/dzieje?) Jaka może to być okazja?
Przykładowa odpowiedź:
Na zdjęciu widzę ogromny tłum na jakimś arenie sportowej. Niektórzy widzowie mają własnoręcznie wykonane plakaty z sobą. W mojej opinii przybyli tutaj, aby obejrzeć jakiś mecz. To może być bardzo specjalna okazje – turniej lub mistrzostwa. Ci ludzie przyszli, by wyrazić swoje wsparcie dla zespołu, który startuje w konkursie lub ich drużyny narodowej.

Oni wszyscy na pewno są bardzo podekscytowani, ponieważ tego typu wydarzenia nie zdarzają się często. Wydają się być bardzo zaangażowani w to, co się dzieje na boisku. To mogą być mistrzostwa piłkarskie czy baseballowe. Te dyscypliny są bardzo popularne i dlatego wielu ludzi przychodzi na mecze. Widzowie przybyli dopingować swoją narodową drużynę.

Takie zdarzenia są bardzo ważne, ponieważ podczas nich ludzie są doskonale zjednoczeni i zapominają o powodach do kłótni z innymi. Poczucie obywatelstwa i patriotyzmu zostaje wtedy odzyskane. Wsparcie dla drużyny narodowej jest sprawą o wielkim znaczeniu dla większości ludzi, ponieważ w końcu nie ma podziałów między nimi.

Całość jest również wielkim bonusem dla zawodników. Słuchanie, jak tysiące ludzi krzyczy ich imię, daje im ogromny wzrost pewności siebie i sprawia, że chcą dać z siebie sto procent swoich możliwości.
Podobne wypracowania