unikalne i sprawdzone wypracowania
Cultural events and paparazzi: description of a picture - Wydarzenia kulturalne i paparazzi: opis obrazka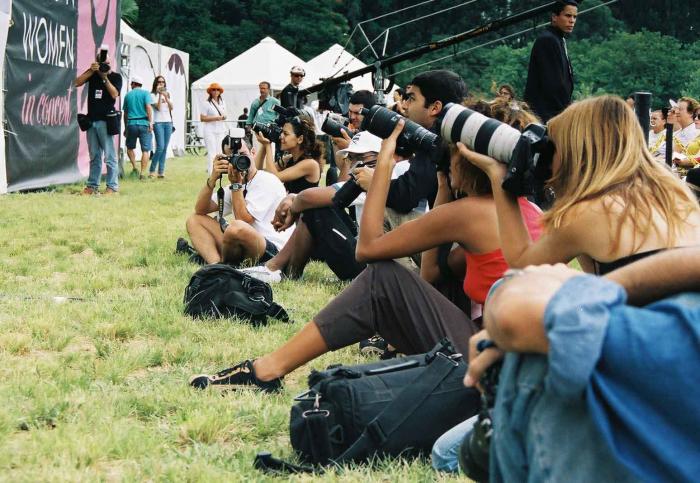 Exemplary questions:
What/who can you see in the picture? What kinds of feelings accompany those people? What kind of a situation may be presented here? (What happened/is happening?) What kind of a story may be connected to it? Where is the scene taking place? What is its meaning?
Exemplary answer:
In the picture, I can see some people with professional cameras, sitting on the grass. They are young women and men, all taking pictures of something before them. They have backpacks with them and are wearing casual clothes. In the background, there are white tents and some posters concerning women.
I suppose there can be a happening taking place. The topic must be related to women. It could be connected to ladies' role in arts such as photography, music, painting or acting. It might have been organised by some kind of a feminist social formation. The photographers could be journalists or their companions. They've come to take pictures and interview the participants of the event. Then they will publish these stories in local or even national newspapers.
Those people might also be friends of the contestants. They've come to immortalize the performances and then use the pictures for a promo in the Internet. They can be just spectators who like photography as well. They could've come to practice photography, take some pictures and have a nice afternoon.
The atmosphere out there seems to be idyllic. It's calm, people enjoy the high level of culture presented by the women on the stage and everyone's relaxed and have fun.
Tłumaczenie
Przykładowe pytania:
Co/kogo widzisz na obrazku? Jakie uczucia towarzyszą tym osobom? Jaka sytuacja może być tutaj zaprezentowana? (Co się stało/dzieje?) Jaka historia może się z nim wiązać? Gdzie odbywa się scena? Jaki ma sens?
Przykładowa odpowiedź:
Na zdjęciu widzę ludzi z profesjonalnymi aparatami siedzących na trawie. Są to młode kobiety i mężczyźni, wszyscy fotografują coś przed nimi. Mają ze sobą plecaki i mają na sobie zwykłe ubrania. W tle znajdują się białe namioty i plakaty dotyczące kobiet.

Przypuszczam, że może odbywać się tam jakiś happening. Temat musi być związany z kobietami. To może być połączone z rolą pań w sztuce, np. fotografii, muzyce, malarstwie lub aktorstwie. Może zostało to zorganizowane przez jakąś społeczną organizację feministyczną. Fotografowie mogą być dziennikarzami lub ich towarzyszami. Przybyli tu, by robić zdjęcia i przeprowadzać wywiady z uczestnikami imprezy. Później opublikują te historie w lokalnych lub nawet krajowych gazetach.

Ci ludzie mogą być również znajomi zawodników. Przybyli tu by uwiecznić występy, a następnie użyć zdjęcia jako promocji w Internecie. Mogą być tylko widzami, którzy lubią fotografować. Mogli przyjechać, by poćwiczyć, zrobić kilka zdjęć i spędzić miło popołudnie.

Atmosfera tam wydaje się być sielanką. Jest spokojnie, ludzie cieszą się wysokim poziomem kultury przedstawionym przez kobiety na scenie i wszyscy są zrelaksowany i dobrze się bawią.
Podobne wypracowania