unikalne i sprawdzone wypracowania
To be in need for help: description of a picture - Potrzebować pomocy: opis obrazka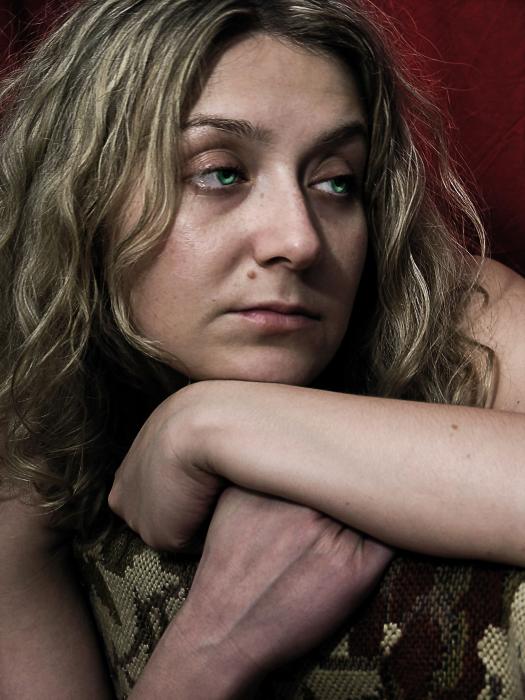 Exemplary questions:
What/who can you see in the picture? How can this person feel? What kind of a situation can be presented here? (What happened/is happening?) What can she be thinking about? What kind of a story may be connected to it?
Exemplary answer:
In the picture I can see a woman in her mid-thirties, cuddling a brownish pillow, with her head leaning on her arms. She has blond wavy hair and deep blue eyes. She has a mole on the right side of her face. She's not smiling. In fact, she looks rather worried and saddened.
She feels depressed because of something. She's surely thinking about the reason of her being disheartened. The cause of her being miserable might be the death of a family member. She's certainly remembering the good moments spent with that person. She could also be missing them. She might also have been hurt by a man she loved. He might have cheated on her or lied to her. He may have broken up with her for some reason. She must be deeply hurt and unhappy.
She might feel guilty and have a sense of lost time. She could feel rejected, unattractive and embittered. She might have also been fired from work that was important to her. However, something macabre could have happened to her. For instance, she might have been raped or mugged and is now feeling shocked, frightened and lost.
She may have lost self-confidence, a sense of being safe, a point in life and some of the good things for her in it. No matter which story is true, she surely needs help from her friends.
Tłumaczenie
Przykładowe pytania:
Co/kogo widzisz na obrazku? Jak może czuć się ta osoba? Jaka sytuacja może być tutaj zaprezentowana? (Co się stało/dzieje?) O czy może myśleć? Jaka historia może się z nim wiązać?
Przykładowa odpowiedź:
Na obrazku widzę kobietę około trzydziestki przytulającą brązowawą poduszkę, głowę opierając na ramionach. Ma blond falowane włosy i bardzo niebieskie oczy. Ma pieprzyk na prawej stronie twarzy. Nie uśmiecha się. Tak naprawdę wygląda na raczej zmartwioną i zasmuconą.

Czuje się załamana z jakiegoś powodu. Na pewno myśli o powodzie swoich trosk. Powodem jej zgryzot może być śmierć członka rodziny. Na pewno wspomina wszystkie dobre chwile spędzone z tą osobą. Tęskni za nią. Mogła też zostać skrzywdzona przez mężczyznę, którego kocha. Mógł ją zdradzić albo okłamać. Może z nią zerwał z jakiegoś powodu. Ona musi czuć się dogłębnie zraniona i nieszczęśliwa.

Może czuć się winna i mieć poczucie straconego czasu. Może czuć się odrzucona, nieatrakcyjna i rozgoryczona. Mogła też zostać zwolniona z pracy, która była dla niej ważna. Jednakowoż, coś strasznego mogło się jej stać. Na przykład, mogła zostać zgwałcona lub napadnięta i teraz czuje się zszokowana, wystraszona i zagubiona.

Mogła utracić pewność siebie, poczucie bezpieczeństwa, sens w życiu i kilka dobrych rzeczy w nim. Bez względu na to, która historia jest prawdziwa, dziewczyna na pewno potrzebuje pomocy przyjaciół.
Podobne wypracowania